TC8610
4 Channel Serial-over-T1/E1 Multiplexer
Features
The TC8610-1 is a 4 Channel Serial-over-T1/E1 multiplexer with built-in power redundancy. It supports data rates up to 38.4 Kbps.*
ESF Framing Support for T1
PCM31C Framing Support for E1
Very Low Latency - 600µs
Diagnostic Feature CSU Loop Up/Down Code Supported
Individually Isolated Ground for each Serial Port
Supports 120Ω & 75Ω E1
Built-in Power Redundancy
Rack Mount or Stand Alone
*Check factory for availability
It can support either T1 or E1 upon order. Four options are available for serial inputs:
TC8610-1-1: 4 Channel RS-232
TC8610-1-3: 4 Channel RS-422
TC8610-1-4: 4 Channel RS-485, 4-wire
TC8610-1-5: 4 Channel RS-485, 2-wire*
Contact factory for availability of other combinations
Applications
The TC8610 offers an inexpensive, plug and play method for connecting up to four serial devices over existing T1/E1 links. Popular applications include:
Transporting asynchronous RS232/RS422/RS485
Transporting SCADA communications
Protocol-transparent
Supports SEL Mirrored Bits®*
Connecting two Power Utility teleprotection relays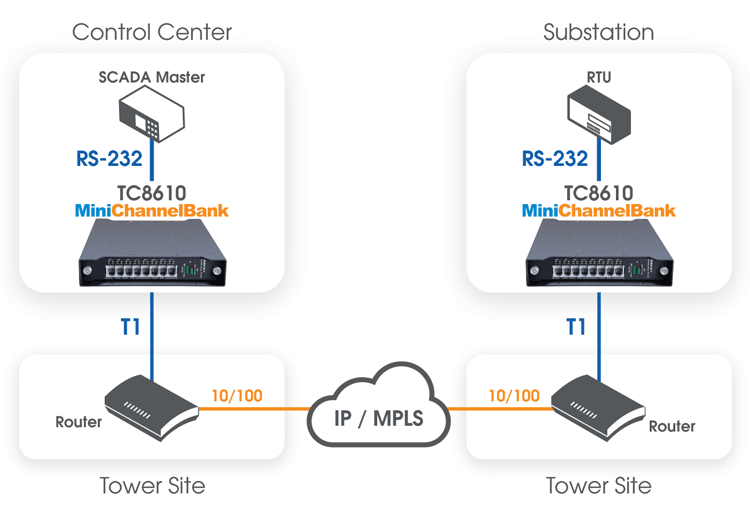 The TC8610 can also convert the RS-232 Async to RS-422/RS-485 signals running from the local side to the remote side or vice-versa.
*NOTE - Mirrored Bits® is a registered trademark of Schweitzer Engineering Laboratories Inc.

Specifications
Serial
StandardRS-232/RS-422/RS-485
Ports4
Data Rate
RS-232 Async w/ ControlUp to 64 Kbps
RS-422 AsyncUp to 64 Kbps
RS-485 2 or 4-WireUp to 4.8 Kbps, 9.6Kbps, 19.2Kbps, 38.4Kbps
T1/E1
T1
Receiver Sensitivity0dB to -36dB
Line CodeAMI / B8ZS
FramingESF
E1
Receiver Sensitivity0dB to -43dB
Line CodeAMI / HDB3
FramingPCM31C
Visual Indicators
Channel Status (each ch.)Tx, Rx
SystemPWR A, PWR B, Vcc, ALM, RMT
T1/E1BPV, LOS, SYNC, AMI, RAI, AIS, CRC
System
Bit Error Rate1 in 10

9

or better
Electrical
ConnectorRJ11F
Interface (standard)RS-232
Interface (optional)RS-232, RS-422 2 or 4-wire RS-485
Alarm
Dry ContactNormal Open/Closed
Power
Standard12VDC @300mA
Optional24VDC, -48VDC, 125VDC, or 115/230VAC w/ power cube
Temperature
Operating-10°C to 50°C
Hi-Temp (optional)-20°C to 70°C
Extreme (optional)-40°C to 80°C
Storage-40°C to 90°C
Humidity95% non-condensing
Physical (Standalone Unit)
Height(3.53cm) 1.40"
Width(18.14cm) 7.20"
Depth(24.89cm) 9.80"
Weight(907g) 2.0lbs
*Contact factory for higher requirements/availability
Product version may differ from current manual. For assistance or proper manual version please contact Technical Support.