For decades, leased lines have provided critical communications support for SCADA, teleprotection, radio and phones. Migration from leased lines is becoming more popular as companies in industries as utilities, public safety, and military and government seek to move to a modern network that offers easy legacy device integration, crucial redundancy and reliability, and the significant cost savings to meet budget requirements.
Migrate to a modern network and:
Extend the life of existing equipment
Eliminate recurring high expenses
Retain legacy devices
Connect existing analog and other TDM interfaces over an IP/MPLS microwave or fiber network. Customers have the option to use an existing IP/Ethernet network, a carrier network or build one out.
The diagram showcases a typical network upgraded to IP/Ethernet using a JumboSwitch® TC3846-6 Analog & Dry Contact over IP/Ethernet gateway. Existing TDM devices (2-wire phones, 4-wire radios, serial RTU's, etc.) that were previously directly connected using leased services are kept in place while the network is changed to an Ethernet or MPLS network.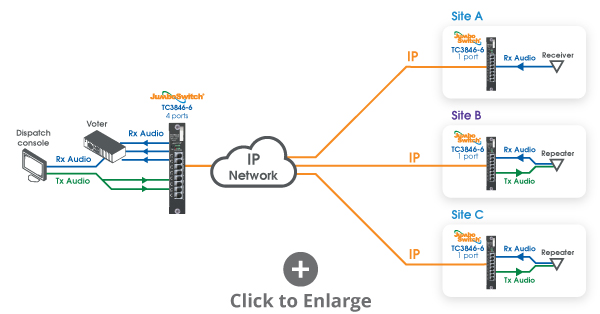 Another alternative to a copper leased line is a T1 line, offered as an option from some TELCOs. Replacing a leased service with a T1 connection comes with a different set of benefits than a packet-based connection. Primarily, a T1 connection bypasses prioritization requirements and cybersecurity maintenance and concerns. As a hardware-only product series, the Mini Channel Bank products have no firmware or require no configuration.
When transitioning off leased lines, users can expect extremely low latency and improved voice quality. The application diagram shows how one network was able to keep existing JPS SNV-12 Voters and Motorola Astrotac Receivers connected to 4W E&M Analog Radios and the TC8614 Analog & Dry Contact over T1/E1 Mini Channel Bank.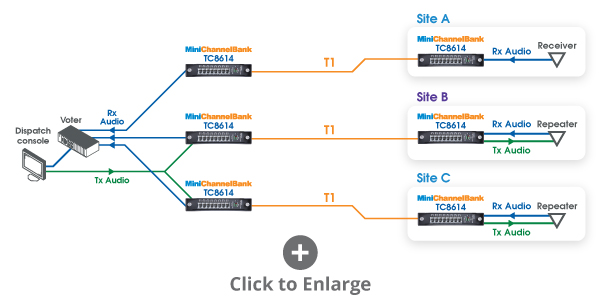 There are many variations on the basic leased line replacement solution. The process to replacing leased lines boils down to 2 basic questions:
What is your old service type?
What type of transport are you replacing it with?
In its most basic form, our leased line replacement solution involves moving from