System/Grid protection
Protective relays commonly utilize RS-232/RS-422 and RS-485 interfaces. Often times, customers have channel banks from a SONET network they are looking to replace, or leased lines through telcos where the protective relays are connected by leased line modems. Our products have been proven in low latency applications for utilities to extend the useful life of protective relays for critical communications.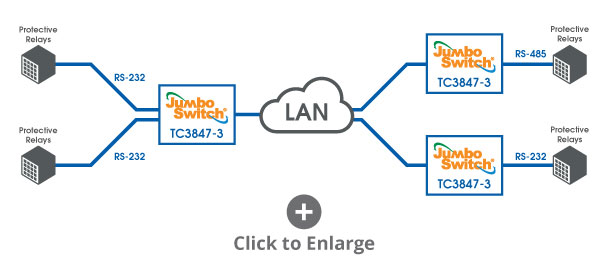 Rail communcations
Communications networks are critical to safety for railyards. Fiber optics are becoming more widely used due to their weather resistance and throughput potential. Our products allow wayside interface units, GPS transmitters, vital controllers, RTUs and other devices to be connected over a single reliable network.
In this deployment the customer replaced their copper infrastructure with fiber and upgraded to JumboSwitch to connect their RS-232 and RS-485 serial vital controllers over a single network platform making it more simple to operate and maintain.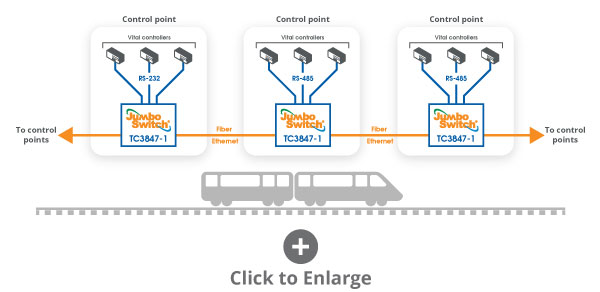 Integrating SCADA
Serial interfaces on SCADA devices are common. As operational networks evolve for increased visibility, bandwidth and security, our products allow you to integrate existing SCADA devices with modern networks.
In this deployment the customer installed a redundant self-healing ring to connect their entire SCADA network adding redundancy and simplifying the deployment.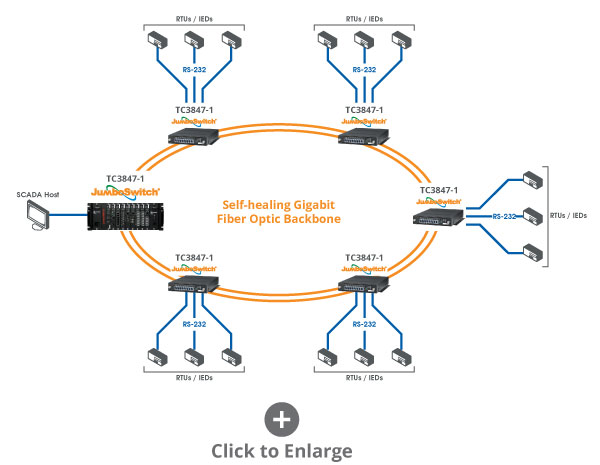 Many T1/E1 channel banks are nearing end of life and carriers are offering more cost efficient and scalable leased services including carrier Ethernet and IP/MPLS. Our products streamline the transition to modern leased services while retaining your existing devices. Our plug and play design simplifies operations and maintenance and deployment allowing a cost effective, reliable transition.
In this deployment the customer upgraded their leased service to Carrier Ethernet while utilizing JumboSwitch to connect and retain the existing endpoint hardware saving cost and time to deploy.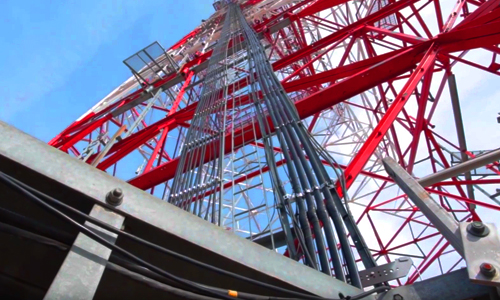 Multi-County Public Safety Agency upgrades Microwave Radio Network
Faced with diminishing equipment reliability and weak vendor support, a public safety communications network in Iowa required a system-wide replacement to keep police, fire and emergency first-responders connected. Using TC Communications' JumboSwitch® Multi-service Ethernet Platform, the agency achieved Ethernet port limiting, management and self-healing redundancy, and improved audio quality and network management.
Watch the video
Read the full case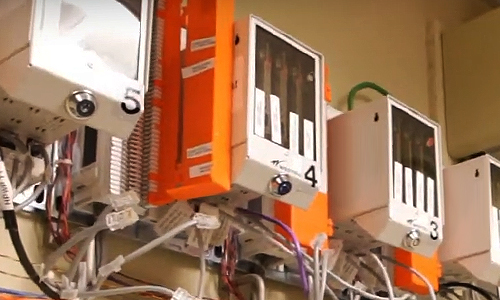 ESRN eliminates leased line costs
For East Shore Radio Network (ESRN), implementing a cost-effective and future-proof solution to eliminate their leased line costs was critical. TC Communications helped the company to fully integrate existing equipment while improving audio quality.
Watch the video
Read the full case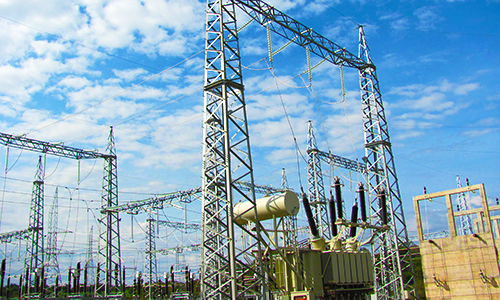 Paraguay Power chooses JumboSwitch as a lower cost alternative to SONET/SDH
The National Power Company of Paraguay (ANDE) requirements for the new communications system were rigorous. It needed to support teleprotection relay circuit latency requirements of less than 12 msec. (round trip), provide E1 connectivity to PBXs located at two substations, and enable dedicated POTS service with PBX capability to all nodes. The solution that fulfilled all of ANDE's requirements was the JumboSwitch Multi-service Ethernet Platform.
Read the full case
Many industrial and critical applications rely on minimal latency and high availability standards to operate properly. Time Division Multiplexing (TDM) over IP/Ethernet solutions provide an optimal transition for legacy devices to integrate over a network with newer technologies allowing legacy devices to maintain critical performance requirements while taking advantage of the flexibility and operational benefits of a modern network backbone. TC Communications specializes in technology that bridges the gap between legacy devices and modern networks including, but not limited to the following interfaces: RS-232/RS-422/RS-485, 600-ohm analog radio, dry contact, T1/E1, T3/E3, C37.94, 2/4-wire and others.
TDM over IP/Ethernet Implementation in JumboSwitch
Packet-switched networks (PSN) have become a ubiquitous transport technology for multiple communications services and industries over a unified infrastructure. TDM over IP/Ethernet benefits carriers and customers by enabling data and voice services over carrier infrastructure while enabling enterprises to run voice, video and data over a single network thereby minimizing network maintenance and operating costs. In this white paper you'll uncover a step by step methodology and key pitfalls to avoid in an implementation of TDM over IP/Ethernet on a gigabit-speed platform.
Read the full white paper