TC3846-6
2W/4W E&M 600 Ohm and Dry Contact over IP Gateway
Features
The TC3846-6 links or extends up to 4 channels of 600 ohm 2/4-wire analog and dry contacts across Layer 2/3 Ethernet/IP, CE, or MPLS networks. For cost savings and scalability, units can be ordered with only 1 or 2 channels of analog and dry contacts and later expanded in the field to 2 or 4 channels.
1, 2, 4 channels (expandable) of 2W/4W E&M 600 ohm over IP
Uncompressed audio ensures flat audio response allowing crystal clear audio and 100% passing of in-band audio signaling
Extremely low latency ensures compatibility with all voting and simulcast systems
Compatible with all dispatch consoles
FSK, FFSK modem capability
Meets or exceeds IEC 61850-3, IEEE 1613 & NEMA TS-2 standards
Extreme operating temp (-40°C to +80°C) option
Member of JumboSwitch Product Family
The JumboSwitch series is a TDM over IP/Ethernet based solution designed to emulate time-division multiplexing over packet switched networks (PSN). TDM over IP/Ethernet is a TDM pseudowire (PW) technology making it possible to provision E1, T1, E3, T3, STS-1 and serial data services across PSN's such as IP, MPLS or layer 2 Ethernet Networks.
"Over the past thirty-five years I have used similar boxes from other vendors for similar applications. But I have never seen one that would produce such a linear, uniform audio transmission from one end to the other - especially across an IP link."


- Martin T. Vinson, N.C.T., A.S.C.E.T.
Applications
Voted radio systems
Low latency and uncompressed audio ensures reliable operations and crystal clear audio
Compatible with all voted solutions


Simulcast systems
Low latency and signal distortion allows seamless integration with existing analog simulcast networks

Leased line replacement
100% compatible with existing 4W or 2W leased lines, improving reliability, network flexibility and allowing for significant cost reductions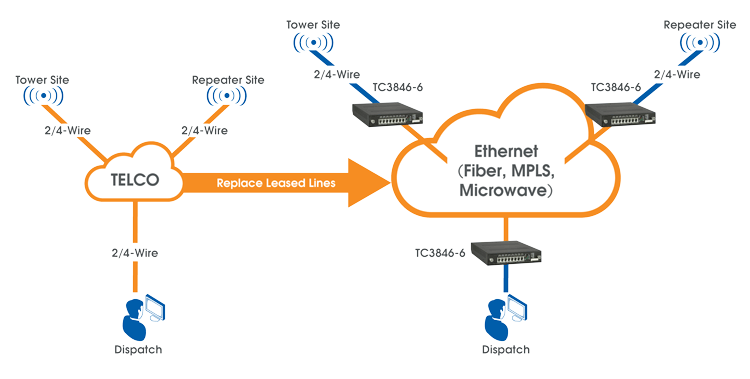 600 ohm analog audio devices
Compatible with FSK, FFSK modems

Specifications
Connection Capacity
600 ohm (2/4 Wire)1, 2, or 4 Ports
Dry Contact1, 2, or 4 Ports
GigabitEthernet1 Port
Electrical
Dry Contact Interface
Normal openStandard
Normal closeOptional
Max Load Voltage60V
Continuous load current0.55A
Peak load current1.2A
Detector max input voltage9V
600 ohm Analog Interface
Impedance600Ω
Max Input3Vp-p
Frequency band300 to 3400Hz
ConnectorRJ11
Ethernet Interface
StandardsIEEE 802.3, 802.3u
ConnectorRJ45
Console Interface
Connector2.5mm Audio Jack
Regulatory Approval
CE, FCC Part 15, CISPR (EN55022) CLASS A, IEC 61850-3, IEEE 1613, NEMA TS-2
Diagnostic Functions
Local and Remote Loopback for Analog and Dry Contact
LEDs
Unit StatusPWR (A, B), Alarm, BU, PL, Vcc, BP, MGM
AnalogOn, Sync
Dry ContactDetector, Relay
Power
Standard12VDC
Optional24VDC, -48VDC or 125VDC (1U/ 2U/ 4U only), 90-260 VAC, 50/60Hz
Power Consumption< 10W
Operating Temperature
Hi-Temp-20°C to 70°C
Extreme Temp-40°C to 80°C
Storage
Temperature-40°C to 90°C
Humidity95% non-condensing
Physical (4-Channel Standalone)
Height(3.15 cm) 1.24"
Width(17.78 cm) 7.0"
Depth(22.86 cm) 9.0"
Weight(0.3 kg) 0.75 lbs
For assistance with this product or to request a user manual please contact Technical Support.