TC Communications' products transport critical communications between airport runway, control tower and operations buildings. Our product lines support multiple interface types including copper and fiber backhaul options. This diagram illustrates transport of Instrument Landing System (ILS) communications including glide slope and localizer data while integrating telephony and status data over a single platform. In addition airport terminal information system (ATIS) data can also be integrated.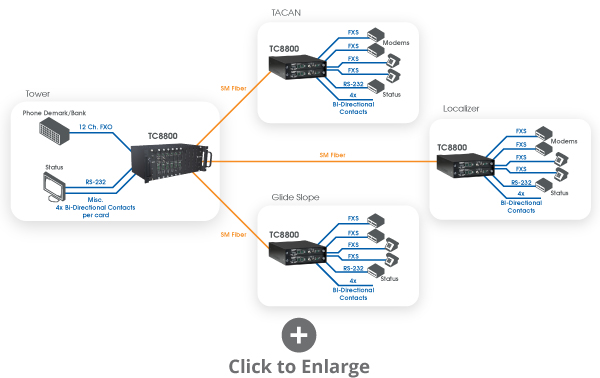 TC Communications' JumboSwitch product line is used to transport airport communications radio networks while adding resiliency/reliability. This diagram illustrates integrating radio communications between the Digital Antenna System (DAS), air traffic control and weather operations buildings via an upgraded self-healing fiber optic ring.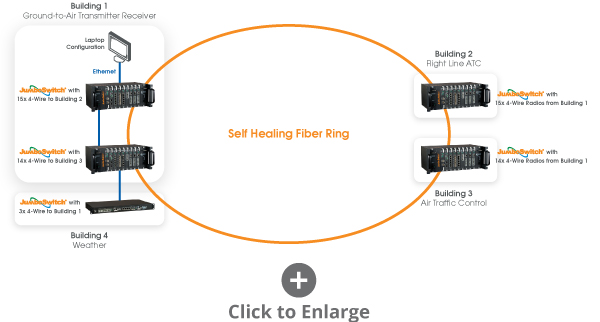 TC Communications designs critical communications products including emergency phone line and crash phone applications. These products include a multitude of options including virtual PBX, hot line and party line allowing initiator of the call to have a conversation with up to seven remote locations. In addition we can include a two master port option to accommodate dual control tower airports for failover and redundancy.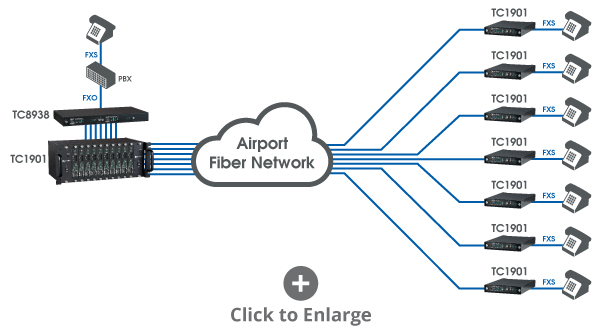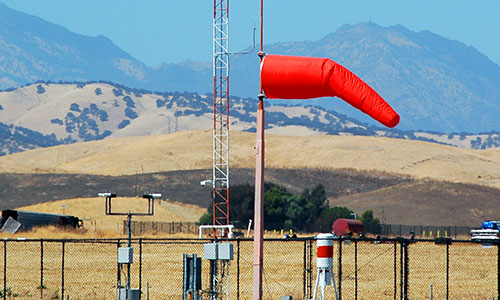 Airfield Migrates to Fiber Network Improving Communications Quality and Operations
They were facing multiple challenges impacting two of their communications networks. They had been dealing with signal quality issues, degrading copper and system shutdowns. The airfield was in search of a single vendor that could migrate their communications network including their radio network between the tower, their weather command post and radar approach control (RAPCON). In addition, Glide Slope, Localizer data and telephony for two runways had to be integrated with their headend at RAPCON.
Read the full case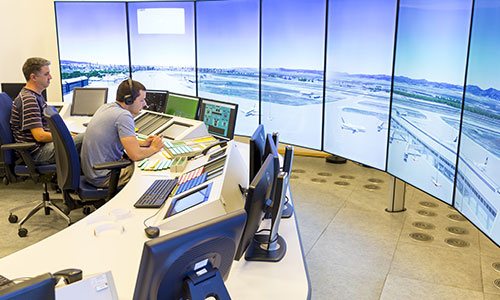 Juggling a Backbone Mandate While Integrating with an Ongoing Upgrade
This airfield was mandated to upgrade its existing copper backbone to fiber, resulting in the need to upgrade their communications network. In addition, the airfield was performing an upgrade of their airfield radio system which needed to integrate with the proposed communications network solution. TC Communications assisted in migrating the entire communications network including communications between ground to air transmit receive (GATR), air traffic control (ATC), and the weather command post.
Read the full case
"TC Comm has been professional, energetic, and anxious to provide the best services available."


- Donald T Hodges, Ice Technical Services