The JumboSwitch® TC3850-1 is a 10G Multi-Service Layer 2 Switch supported in a modular chassis design with 2 open slots compatible with JumboSwitch® interface cards. It is MEF Carrier Ethernet 2.0 Compliant allowing network providers the ability to utilize Ethernet technology in network as well as providing Ethernet services to customers.
10G managed network switch includes advanced networking features:
Complies with Carrier Ethernet 2.0
VLAN, QoS and Rate Control
Temperature, Power and SFP Monitoring and RMON
Management Interfaces: Web, SNMP or Command Line
Network & Management Security: 802.1X, RADIUS/TACAS+, AAA, SNMPv3 and SSL
TC3850-1 JumboSwitch 10G Managed Network Switch and 10G JumboSwitch as a core device applications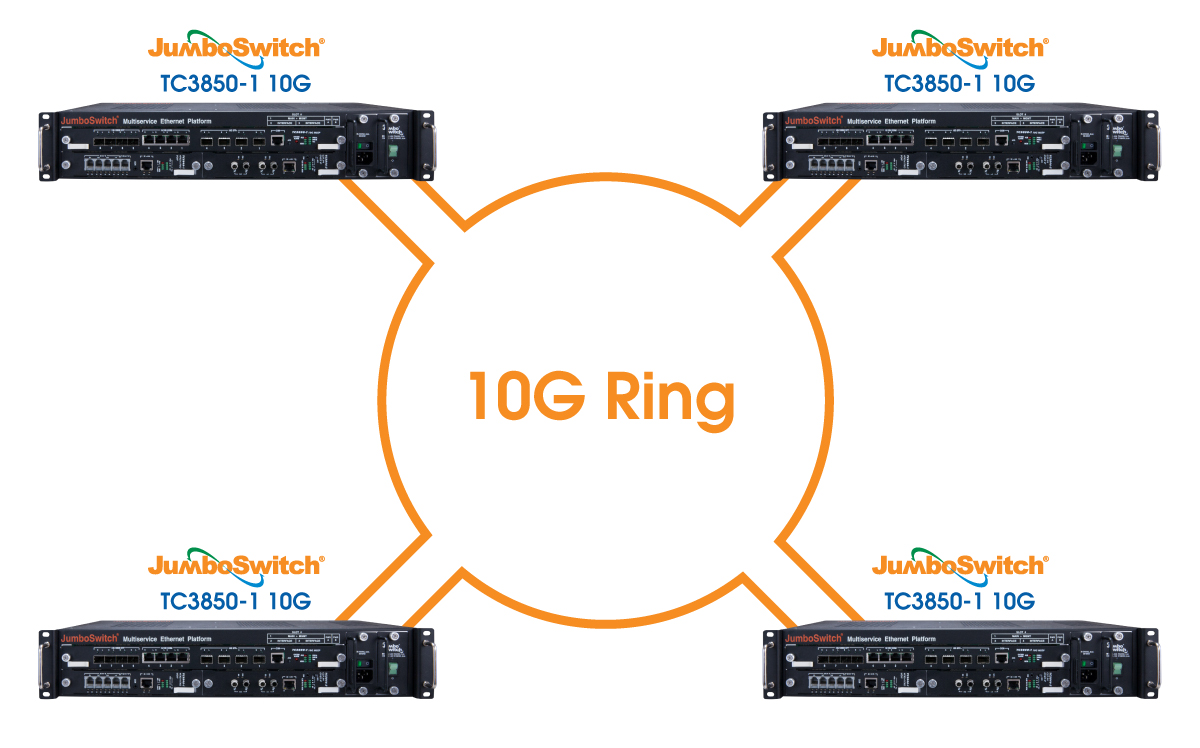 TC3850-1 JumboSwitch as an Edge device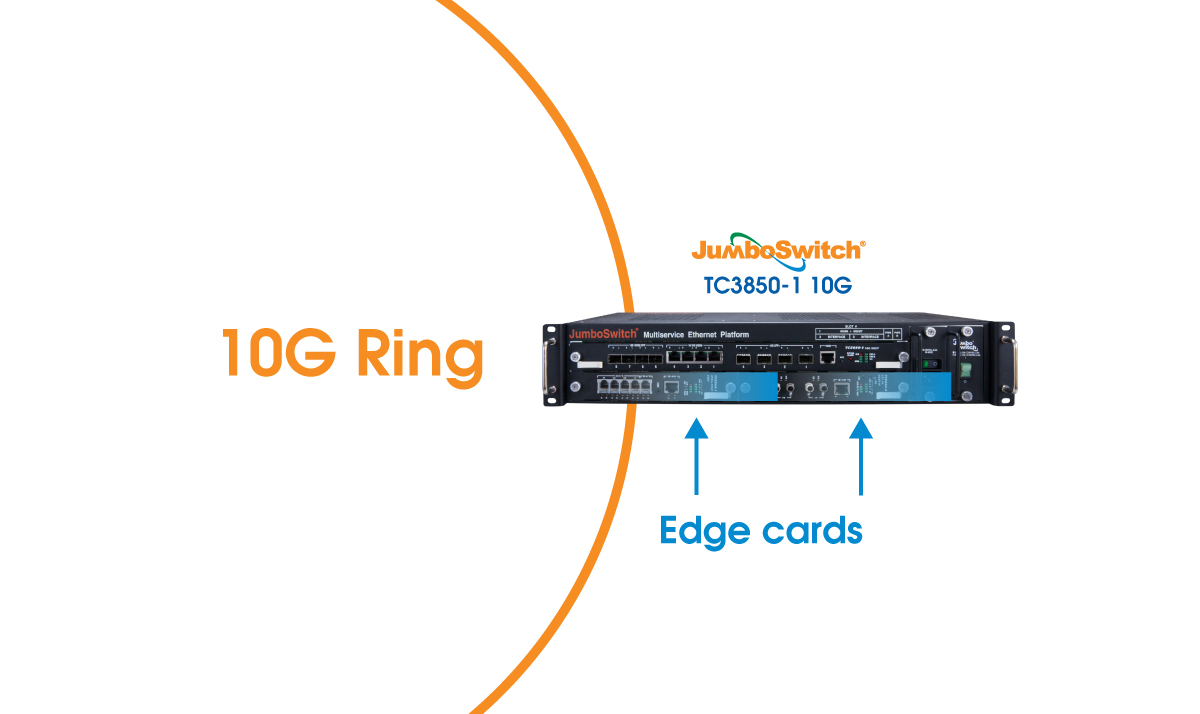 TC3850-1 has 4 x 10G SFP to create a totally flexible 10G network 4 x 1G Ethernet ports provide 1G connectivity with Edge devices
2 Additional slots for JumboSwitch cards
TC3841 1G Ethernet card
TC3842 SFP card
Any JumboSwitch interface card
Supported interfaces (via modular interface cards):
TC3850-1 Combined with JumboSwitch Edge devices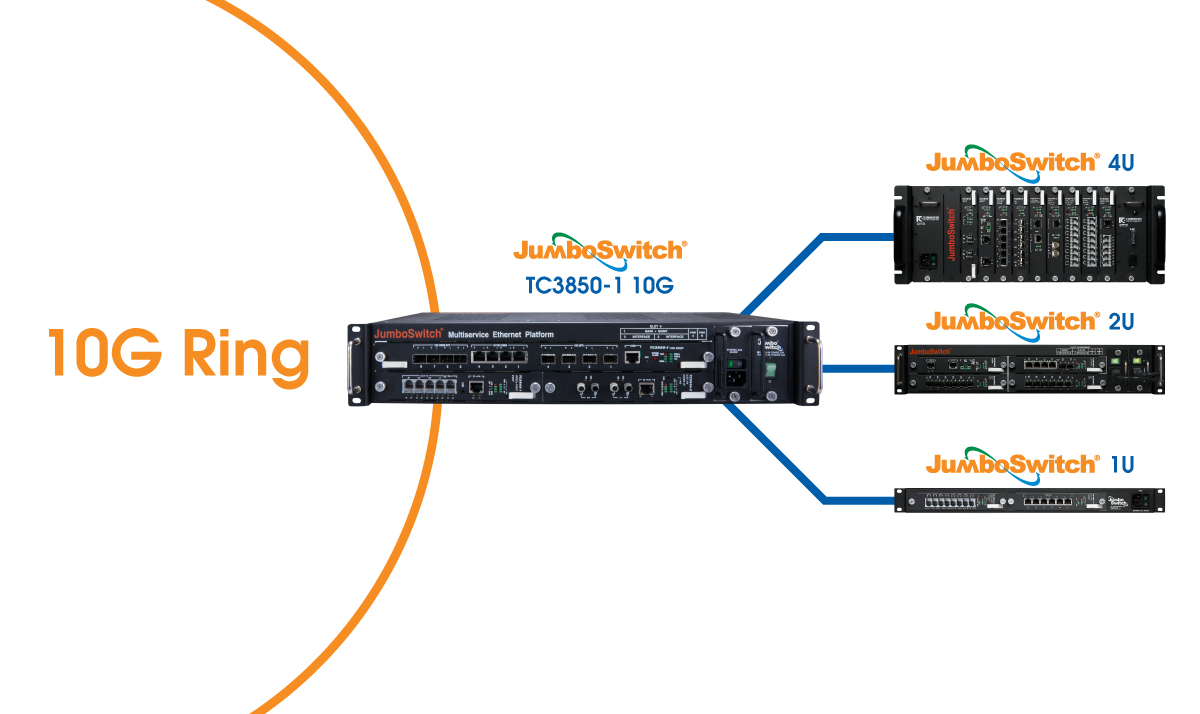 Teleprotection over IP with 10G JumboSwitch® is secure and dependable. Enjoy high performance for Teleprotection with low channel delays and low channel variations in addition to sub 50ms protections switching.
Resiliency is key. Listed are just a few key features of the JumboSwitch TC3850-1 10G:
Extended power range
Dual power supplies (hot-swappable, AC & DC)
Replaceable fan tray (hot-swappable)
Hot-Swappable interface cards (Learn more.)
Industrial Hardened for operation in harsh environments (Learn more.)
Card and Port-level traffic redundancy
Management sub-system redundancy
Domain clock redundancy
Provides advanced Carrier Ethernet services for utility communication applications
Why Carrier Ethernet?
Slow recovery time and network delays are not an option in critical communications. Networks must be reliable, scalable, and avoid delay. Carrier Ethernet provides a scalable solution with quick fault recovery and stable communications.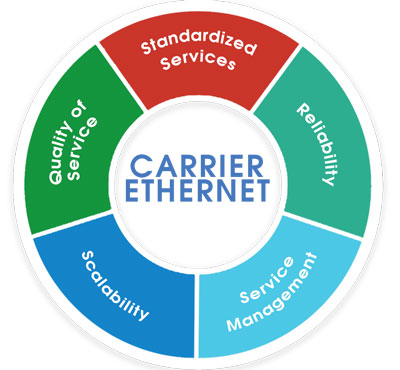 Features & Technology
Ethernet Ring Protection Switching (ERPS)
As many networks move toward carrier Ethernet and replace SONET/SDH networks, ring recovery and interoperability between brands are a growing concern. One main concern is preventing a broadcast storm while minor differences between devices result in less resiliency and longer training and setup times.
As an effort to resolve this issue, ITU-T (International Telecommunication Unit) created Ethernet Ring Protection Switching (ERPS) under G.8032 Recommendation. ERPS helps achieve high reliability and network stability by providing sub-50ms protection and recovery switching for Ethernet networks in a ring topology. Loop avoidance is done by designating one ring node as responsible for blocking traffic. When a link fails, the designated node unblocks allowing traffic to continue.
The G.8032 standard protocol allows users to have different brands while ensuring network reliability and resiliency. G.8032v1 supported a single Ethernet ring while G.8032v2 added more features including support for multiple rings/ladder network.
E-Line: Ethernet Virtual Private Line
Ethernet Private Line (EPL) or Ethernet Virtual Private Line (EVPL) provides dedicated bandwidth between two points. Using an Ethernet virtual connection (EVC) between a pair of dedicated user-network interfaces (UNIs), E-line replaces traditional private line services and offers more bandwidth at a lower cost.
EVPL allows users to instantly and securely communicate between two UNIs. This private connection heightens network efficiency providing stable, secure, and efficient data transmission.