Maximize your network's capabilities. Configure, manage, monitor, troubleshoot and service your JumboSwitch network with TCView.
Warns you before there is a problem

Monitor and track vital statistics of your network. Set thresholds on key parameters including unit operating temperature, transmit and receive power on the optics, and power consumption. Set triggers for system alarms that notify you by email or text.
Instant view of network health
Let the system do the worrying. In addition to tracking and alarms for key parameters, users have a physical view of the network links. At each site, they can drill down into individual cards to monitor all status LEDs.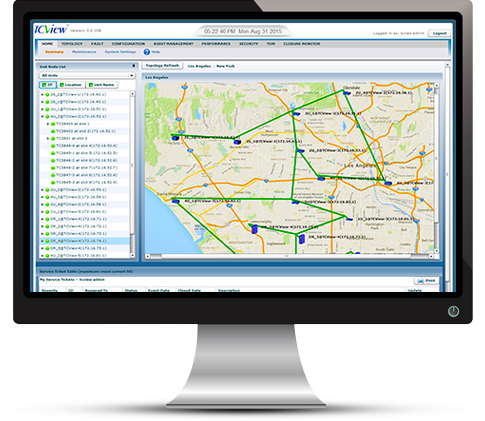 Spend less time on maintenance

TCView® was designed to make life easier for the user. The software is not only used to track firmware versions and store backup configurations, but also to manage the unit remotely. Update firmware and power cycle products located 100 miles away.

More security
With an increasing number of users working from home and non-central locations, enhancing security features was an important update to this version. The updated version of TCView includes security tokens and improved security around user sessions.

You spoke, we listened
A number of usability requests were implemented in this version. We partnered with our customers and reviewed user feedback. Some of the many improvements include the ability to close multiple warning popups at once and network hubs now recognized as a device when auto-detecting a network map.
A Windows-based network management software for the JumboSwitch® and future generation platforms.
The software offers multi-user support for network operations, a centralized database, and remote access via an IP network.
Users can also monitor third party devices, based on the ITU-T Telecommunications Management Network (TMN) model with advanced FCAPS capabilities. (Subject to TC Communications approval). (Subject to TC Communications approval).
Real time latency monitoring with
LateView™
LateView™ provides real time latency monitoring and also records latency history in a graphical format to help determine the health of a communication network during a specific time period.
Real time latency monitoring, is an indispensable software feature for isolating communication problems within mission critical applications. Available on four interface cards offered by the JumboSwitch® Multiservice gigabit Ethernet Switch Platform from TC Communications:
Serial over IP
G.703/64K-to-IP co-directional
C37.94-to-IP
Analog-to-IP 600 Ohm
LateView™ monitors interface card pairs that users can designate by IP addresses and card types. Its values are illustrated by a graph that depicts latency by milliseconds (msec.) in a vertical axis and the date in a horizontal axis. Polling cycles are typically set at once every second.
Acceptable latency ranges vary for every application; however, typical fluctuations should be less than 5 msec. LateView™ also enables users to set alarm thresholds that meet their parameter specifications. For example, a user requiring a latency of 5 msec. could set alarm traps for less than 4.75 msec. or more than 5.25 msec.
Fault management
Alarm messages and threshold breaches covering all facets of network health and operations are communicated to the network administrator via an intuitive window that clearly displays the fault, severity, and probable cause. Tickets for problem resolution can be generated and sent via email on the same alarm screen. Upon resolution and clearing of the alarm, TCView® maintains a searchable history of the alarm for future reference.
Configuration management
Configuring a JumboSwitch network is straightforward and simple thanks to TCView®'s graphical user interface. Because it automatically configures Rapid Spanning Tree Protocol upon start-up, TCView® generates an accurate initial draft of the entire network topology, saving configuration time and human error. Under the policy-based setting, mundane repetitive commands are stored and executed in bulk to minimize configuration effort.
VLAN configuration is streamlined into an intuitive network configuration tab. The user only needs to select ports, cards, or an entire chassis and drag and drop them into a newly created VLAN.
Snapshots of network configurations can be generated and saved on a regular basis for backup and network recovery after possible failure conditions.
Automatic network configuration using RSTP
Centrally manage configurations and upgrades
Network configuration including VLANs, QoS, Priority and Rate Limits.
Current configuration can be compared with baseline (factory default, etc)
Configuration audit to check conflict or compare configuration with performance data
Backup and synchronization version
Access directly to a managed device
Fail over and fault tolerance configuration
MIBs Import/Export for network management integration (subject to TC Communications approval)
Asset management
TCView® offers a comprehensive network hardware and software inventory management system that includes important details such as serial numbers, hardware and software version numbers and locations. Most of these parameters are stored and automatically loaded from EPROMs on each interface card without user intervention. Minor customization, such as location, names, etc. can turn this capability into a full-featured inventory analysis tool, saving time and effort during upgrades. The asset management database can be saved as a simple Excel spreadsheet for easy manipulation and upload back to TCView®
Performance management
All key JumboSwitch® performance parameters are accessed by TCView®. The following parameters are available in immediate or historical interval views for complete visibility into trends and statistics about overall network health:
Link Status
Bandwidth Utilization – Per card or per Chassis
Temperature for each card – Upper and lower limit thresholds can be set by the user
Power consumption by individual Cards
Launch and receive power on all optical interfaces
Security management
Cyber Security issues are part of an enterprise's network management. As a result, TCView® was designed from the ground up with a solid set of security functions. For easy management, TCView® organizes all security tasks into one management screen. The following features are included:
SSH/SSL encryption
Identity management
User Access Policy management
Multilevel Password and Privilege System with automatic expiration interval
Enable and Disable Switch ports
SNMPv3 authentication and encryption
802.1Q VLAN
802.1x Network Access Control
Report security related information and event
User log and trace (Radius and TACACS)