TC8638-1/2
4 Channel Voice-over-T1/E1 Multiplexer
Features
The TC8638 is a 4-channel Voice/Fax/Modem over T1/E1 Multiplexer that allows network managers the flexibility of leveraging T1/E1 circuits by adding low cost analog as needed.
Dialing and paging between TC8638-1 (FXS) units is supported, providing customers flexibility for voice calls. The device is economical, simple to install and comes standard with built-in power redundancy.
The TC8638 is available in two configurations:
4-Channel FXS (TC8638-1)
4-Channel FXO (TC8638-2)
With two TC8638 cards in one 1U chassis, there are two T1/E1 connections available for following configurations:
One 8-channel voice multiplexer, T1/E1 primary link and T1/E1 secondary link (in TCRM19F-R chassis).
Two 4-channel voice multiplexers, each having their own T1/E1 connection (in TCRM19F-I chassis).
4-ch. FXS (TC8638-1) or 4-ch. FXO (TC8638-2)
Mux 4 ch. 2-Wire Telephone/Fax/Modem over T1/E1
Seven LEDs for T1/E1 Status BPV, LOS, SYNC, AMI, RAI, AIS, CRC
ESF Framing Support for T1
PCM31C Framing Support for E1
Very Low Latency
Optional Power Redundancy
1U or 4U Rack Mount or 1S Standalone Chassis
12VDC, 24VDC, -48VDC, 125VDC
"R2" Push Button for Troubleshooting Local Or Remote Units
Applications
A low cost and immediate solution, the TC8638 is typically used to link analog telephones or legacy dial-up devices including data modems, fax machines, meters, ATM, and credit card machines over T1/E1.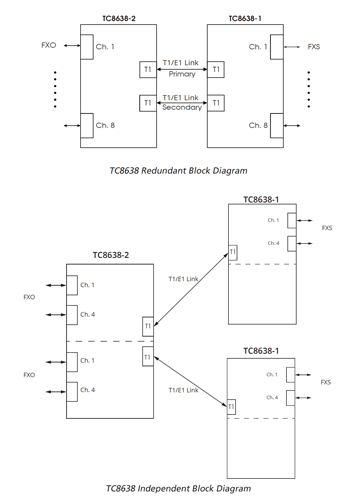 Specifications
Connection Capacity
600 Ohm (2-Wire)4 Ports
Interfaces
FXS (TC8638-1)4 Ports
FXO (TC8638-2)4 Ports
T1/E1
T1
Receiver sensitivity0dB to -36dB
Line CodeAMI / B8ZS
FramingESF
E1
Receiver sensitivity0dB to -43dB
Line CodeAMI / HDB3
FramingPCM31C
Visual Indicators
Channel Status (each ch.)Ring (R), Hook (H)
SystemPWR A, PWR B, Vcc, ALM, RMT
T1/E1BPV, LOS, SYNC, AMI, RAI, AIS, CRC
Electrical
Analog Interface Impedance600 Ohm
Max Input3Vp-p
Frequency band300 to 3400Hz
ConnectorRJ-11
System
Bit Error Rate1 in 10

9

or Better
Alarm
Dry ContactNormal Open/Closed
Power
Standard12VDC @ 500mA
Optional24VDC, -48VDC, 125VDC, or 115/230VAC (with power cube)
Temperature
Operating-10°C to 50°C
Hi-Temp (optional)-20°C to 70°C
Extreme (optional)-40°C to 80°C
Storage-40°C to 90°C
Humidity95% non-condensing
Physical (Standalone Unit)
Height(3.53 cm) 1.40"
Width(18.14 cm) 7.20"
Depth(24.89 cm) 9.80"
Weight(907 gm) 2.0 lbs
* Contact factory for higher requirements
Product version may differ from current manual. For assistance or proper manual version please contact Technical Support.