TC8631-4
2 or 4 Channel RS-232 Sync-over-T1/E1 Multiplexer
Features
The TC8631-4 is a 2 or 4 Channel RS-232 Sync-over-T1/E1 central directional multiplexer with built-in power redundancy, ideal for applications where RS-232 Sync serial data needs to be extended over a T1/E1 link.
Using two DB9 female ports (Port 1 & Port 2) for RS-232 Sync signals and each channel supports up to 28.8 Kbps.
With two TC8631-4 cards in one 1U chassis, there are two T1/E1 connections available for following configurations:
Two 2 channel serial RS-232 multiplexer, each having their own T1/E1 connection
One 4 channel serial RS-232 multiplexer, T1/E1 primary link and T1/E1 secondary link
Features 3 different types of built-in loopbacks: local, remote, and T1/E1 loopback, assist in isolating whether an issue lies on your serial line or your T1/E1 line. CSU Loop Code Up/Down is also supported.
2 CH or 4 CH RS-232 Sync with Full Handshakes (CTS/RTS, DTR/DSR)
Built-in Internal Clocks (TXC/RXC)
RS-232 Status LEDs for 8 Signals: TXD/RXD, CTS/RTS, DTR/DSR, TXC/RXC
Seven LEDs for T1/E1 Status BPV, LOS, SYNC, AMI, RAI, AIS, CRC
ESF Framing Support for T1
PCM31C Framing Support for E1
Very Low Latency
Optional Power Redundancy
1U or 4U Rack Mount
12VDC, 24VDC, -48VDC, 125VDC, 100-240VAC
"R2" Push Button for Troubleshooting Local Or Remote Units
Applications
The TC8631-4 2-Channel RS-232 Sync-over- T1/E1 multiplexer provides an inexpensive method for connecting terminals such as relays, and status collecting devices. It is also used in harsh environments where EMI/ RFI interference, ground loops and lightning conditions may exist.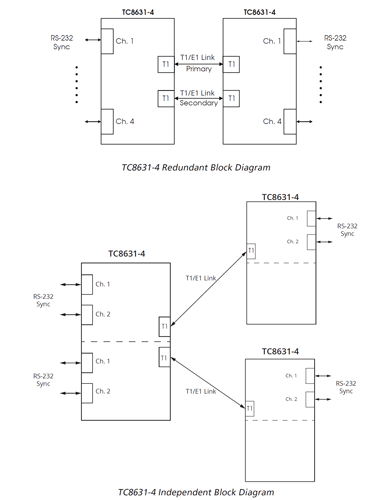 Specifications
Serial
StandardRS-232s
Ports2
Data Rate9.6 Kbps, 14.4 Kbps, 19.2 Kbps, 28.8 Kbps
T1/E1
T1
Receiver sensitivity0dB to -36dB
Line CodeAMI / B8ZS
FramingESF
E1
Receiver sensitivity0dB to -43dB
Line CodeAMI / HDB3
FramingPCM31C
Visual Indicators
Channel Status (each ch.)TXC, RXC, TXD, RXD, CTS, RTS, DTR, DSR
SystemPWR A, PWR B, Vcc, ALM, RMT
T1/E1BPV, LOS, SYNC, AMI, RAI, AIS, CRC
Electrical
ConnectorDB9F
InterfaceRS-232
System
Bit Error Rate1 in 10

9

or Better
Alarm
Dry ContactNormal Open/Closed
Power
Standard12VDC @ 500mA
Optional24VDC, -48VDC, 125VDC, or 100/240VAC (with power cube)
Temperature
Operating-10°C to 50°C
Hi-Temp (optional)-20°C to 70°C
Extreme (optional)-40°C to 80°C
Storage-40°C to 90°C
Humidity95% non-condensing
Physical
Single Card
Height(3.53 cm) 1.40"
Width(18.14 cm) 7.20"
Depth(24.89 cm) 9.80"
Weight(907 gm) 2.0 lbs
1U Chassis
Height(4.3 cm) 1.70"
Width(48.3 cm) 19.0"
Depth(26.7 cm) 10.5"
* Contact factory for higher requirements
Product version may differ from current manual. For assistance or proper manual version please contact Technical Support.